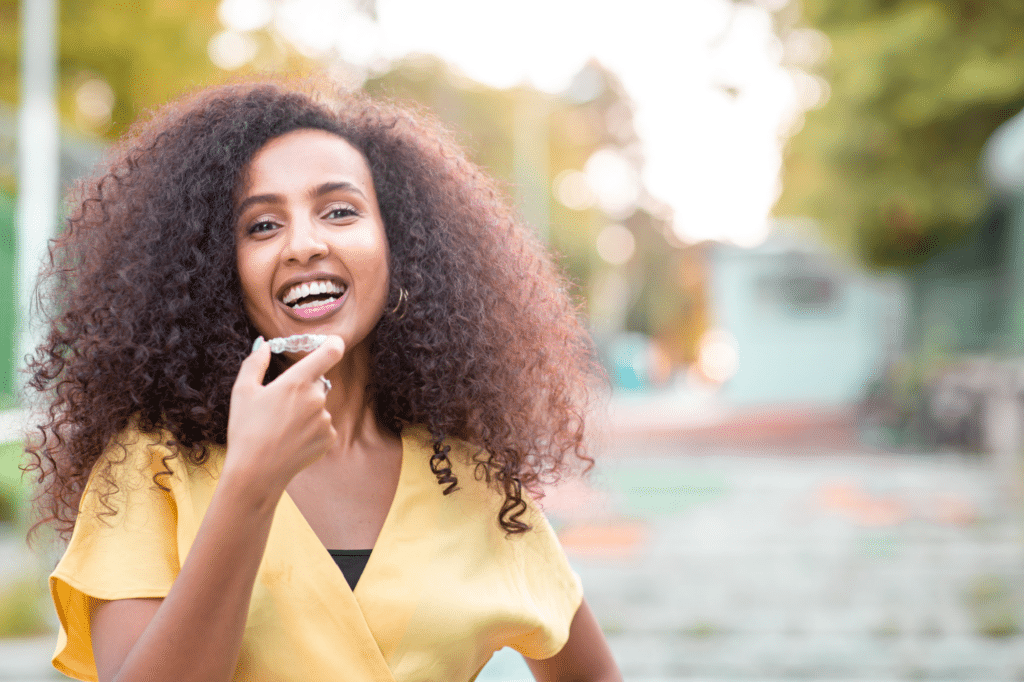 Are you seeking a discreet and effective way to achieve a beautifully aligned smile? Exquisite Smiles is proud to offer ClearCorrect, a cutting-edge orthodontic treatment, right here in Attleboro. Discover how ClearCorrect can transform your smile while maintaining your confidence throughout treatment. Contact us today to get started!
What are ClearCorrect Clear Aligners?
ClearCorrect clear aligners are discreet orthodontic devices made from transparent medical-grade plastic, designed to straighten teeth while being nearly invisible when worn gradually.
Compared to other clear aligner solutions, ClearCorrect offers a comfortable, removable, and virtually invisible alternative to traditional braces.
ClearCorrect is an attractive choice for those seeking effective and discreet orthodontic treatment.
Why Choose ClearCorrect?
ClearCorrect is an orthodontic solution designed to straighten your teeth with a level of discretion and comfort that traditional braces cannot match. Here are some reasons why ClearCorrect might be the ideal choice for you:
ClearCorrect aligners are made from transparent, medical-grade plastic that is virtually invisible when worn. You can straighten your teeth without drawing unwanted attention to your orthodontic treatment.
Comfortable and Removable
The aligners are custom-designed to fit comfortably over your teeth. They are also removable, allowing you to enjoy your favorite foods and maintain optimal oral hygiene during treatment.
ClearCorrect uses advanced technology to precisely plan and execute your tooth movements, resulting in efficient and effective results that meet your smile goals.
Unlike traditional braces with metal wires and brackets, ClearCorrect aligners are smooth and gentle on your cheeks and gums, minimizing irritation and discomfort.
Depending on your unique case, ClearCorrect can often achieve desired results in a shorter time frame compared to traditional orthodontics.
Our ClearCorrect Services
Each patient's orthodontic needs are unique and ClearCorrect can address different orthodontic needs:
Designed with the unique needs of teenagers in mind, ClearCorrect for teens offers a discreet and comfortable way to achieve a confident smile during their formative years.
Adults who desire a more subtle orthodontic solution can benefit from ClearCorrect, achieving a straighter smile without the visibility of traditional braces.
ClearCorrect for Complex Cases
We are proficient in treating even the most complex orthodontic issues using ClearCorrect, providing a versatile and effective solution for many patients.
Our ClearCorrect Process
The journey to your ideal smile with ClearCorrect at Exquisite Smiles typically involves the following steps:
Initial Consultation:

During your first visit, Dr. James Phelan or Dr. Tyler Phelan will assess your dental needs, discuss your smile goals, and determine if ClearCorrect is the right treatment.

Custom Treatment Plan:

If ClearCorrect suits your needs, we will develop a personalized treatment plan using advanced digital technology, ensuring precise alignment adjustments.

Clear Aligner Fabrication:

A series of custom-made, clear aligners will be created specifically for your unique case.

Progressive Alignment:

You will receive a new set of aligners every few weeks, gradually moving your teeth closer to their desired positions.

Periodic Check-Ups:

Throughout your treatment, you will have regular check-ups with our team to monitor your progress and make any necessary adjustments.

Final Results:

Once your treatment is complete, you will have a beautifully aligned smile that boosts your confidence and enhances your oral health.
ClearCorrect in Attleboro, MA
The father-son duo of Dr. James Phelan and Dr. Tyler Phelan lead our dental practice with expertise and a shared dedication to creating beautiful, healthy smiles. With years of combined experience, our team stays at the forefront of the latest dental technologies and techniques to help us provide the best possible care. 
To schedule your ClearCorrect consultation at Exquisite Smiles, please don't hesitate to contact our office.