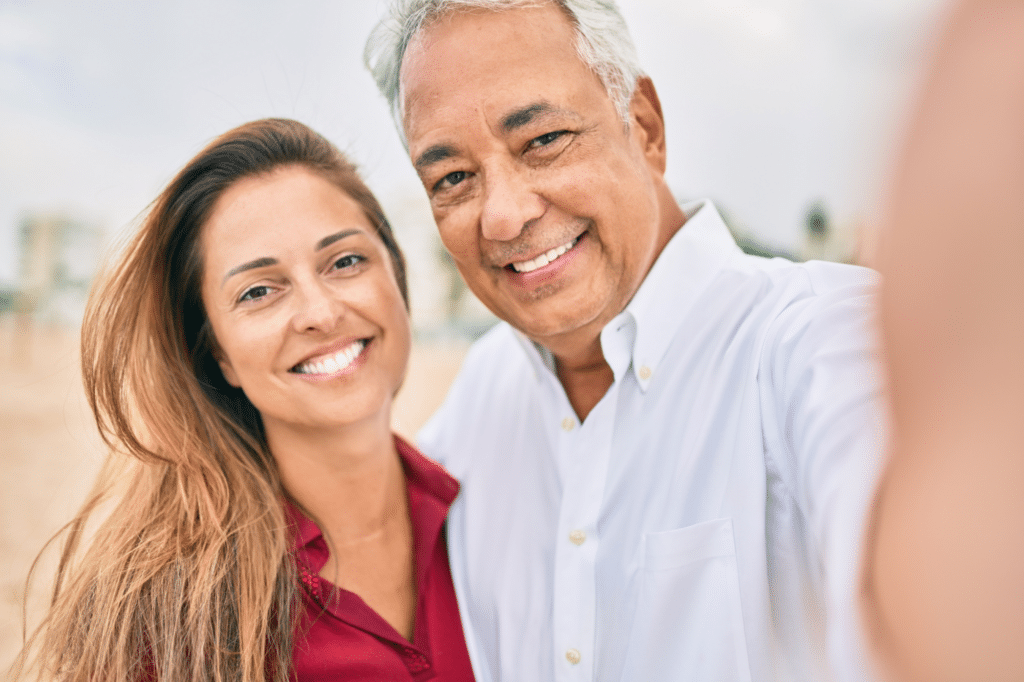 We offer quality dental implants in Attleboro. Dr. James Phelan and his son, Dr. Tyler Phelan, offer years of experience and a passion for beautiful smiles. The Phelans take pride in providing personalized care to every patient. If you're looking for a trusted team to restore your smile, you will find it at Exquisite Smiles.
What are Dental Implants?
Dental implants are advanced and highly effective tooth replacement solutions that offer a permanent and natural-looking alternative to missing teeth. Comprising three essential components—a titanium implant fixture, an abutment, and a custom-made prosthetic tooth—dental implants are surgically placed into the jawbone to provide a strong and stable foundation. Over time, the implant fixture fuses with the bone through a process known as osseointegration, ensuring a secure and long-lasting fit.
Why Choose Dental Implants, and What are the Benefits?
Dental implants provide a permanent and natural-looking solution to tooth loss. Unlike traditional dentures or bridges, dental implants provide numerous benefits, including:
Improved Aesthetics: Dental implants look and feel like natural teeth. They blend seamlessly with your existing teeth, giving you a beautiful and natural smile.
Enhanced Functionality: Implants restore your ability to bite, chew, and speak confidently. You can enjoy your favorite foods without worrying about discomfort or slippage.
Long-Lasting: With proper care, dental implants can last a lifetime, making them a cost-effective solution in the long run.
Prevent Bone Loss: Implants stimulate the jawbone, preventing bone resorption that often occurs when teeth are missing. This stimulation maintains the integrity of your facial structure.
Improved Confidence: Dental implants can boost your self-esteem by providing a stable and attractive smile that you can be proud of.
Our Dental Implant Services
Exquisite Smiles offers comprehensive dental implant services to address tooth replacement needs. Our services include:
Single Tooth Implants: If you're missing a single tooth, a dental implant can replace it without affecting neighboring teeth. It offers a stable and long-lasting solution.
Multiple Teeth Implants: We provide implant-supported bridges or partial dentures for patients missing several teeth, ensuring a comfortable and secure fit.
Full-Arch Implants: If you've lost all your teeth, full-arch implant-supported dentures can restore your smile and functionality with just a few implants.
All-on-4 Implants: This innovative technique allows us to replace an entire arch of teeth with only four strategically placed implants, reducing treatment time and costs.
What to Expect When Getting Dental Implants
Your treatment process will vary depending on your treatment needs. In general, our process includes the following. 
Consultation:

During your initial consultation, we will assess your oral health, discuss your goals, and develop a customized treatment plan.

Implant Placement:

We will surgically place the implants into your jawbone.

Healing Period:

You will need some time for your implants to integrate with your bone. This healing period allows for a strong foundation for your new teeth.

Restoration:

Once your implants have fused with the bone, we will attach your custom-made prosthetic teeth, creating a beautiful, functional smile.

Follow-Up Care:

Our commitment to your oral health doesn't end with the procedure. We provide ongoing support and maintenance to ensure the longevity of your dental implants.
Dental Implant Experts: Dr. James Phelan and Dr. Tyler Phelan
Dr. James Phelan and Dr. Tyler Phelan possess an impressive wealth of knowledge and expertise in the field of dentistry. With hundreds of hours invested in extensive continuing education, particularly in the intricate processes of dental implant placement and restoration, they have honed their skills to perfection. Their relentless pursuit of knowledge ensures that patients receive the most advanced and comprehensive dental care available. At Exquisite Smiles, the combination of their expertise and passion for dentistry guarantees patients a confident and radiant smile that lasts a lifetime.
Dental Implants in Attleboro, MA
Say goodbye to the inconvenience of dentures and embrace the permanence and beauty of dental implants at Exquisite Smiles. We are proud to be your local family-owned dental practice that you can rely on for all your dental needs. Our father-and-son team looks forward to helping you achieve a healthy and beautiful smile. From routine check-ups to complex procedures, our goal is to ensure that you have a positive experience every time you visit us. Trust us to provide you with the exceptional dental care that you deserve.